Uncompromising Quality Stems from Biodiversity
Tirlán has a mission to provide world-class dairy and plant ingredients
Caring for the environment and our farms plays a significant role in the delivery of our mission to 'deliver world class plant and dairy ingredients to our customers around the world'.
We understand that the welfare of our animals, the quality of the land they live on and the long-term maintenance of our family farms will ensure the delivery of the highest quality milk and grains. High quality milk and grains are the starting point for the premium ingredients we provide our customers.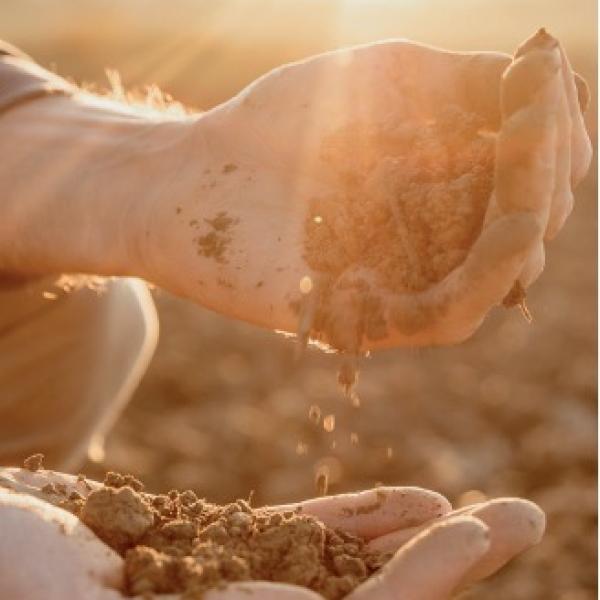 A rich biodiversity on our farms ensures high-quality ingredients
The living environment on farms impacts the quality of milk, dairy powders, cheeses, and butters. Biodiversity improves the quality of nutrition for pasture-fed herds. Ireland's unique grass-based
system, benefits the quality of products from farms as Irish cows graze on open pastures with the freedom to roam in its Atlantic, oceanic climate. Temperate climate and rainfall volume results in consistent growth of grass, allowing grazing for up to 250 days per year1. White clover is common in Irish pastures and it can help reduce nitrous oxide emissions and lower our carbon footprints. White clover has also demonstrated improvements to milk yield and milk solid yields. Enhanced biodiversity increases pollination of forages like white clover.
Tirlán is supporting a biodiverse, rich environment from the roots up.
Operation Biodiversity is part of Tirlán's Living Proof sustainability strategy and one of the many on farm programmes to protect our land and deliver economic, social and environmental benefits for farm families for generations to come. As part of the Operation Biodiversity programme Tirlán has set a target to deliver 450,000 native trees and hedgerow plants to our farming families by 2025. Irish farmers know the value of hedgerows and trees on their farms. This has led to increased momentum behind Operation Biodiversity and this is what sets us apart from farms anywhere in the world.
Tirlán is motivated to enhance the environmental and economic sustainability of its network of family farms through the €18 milliona year Sustainability Action Payment to assist its dairy suppliers in adopting a range of actions. Trees and hedgerows are specifically selected by our horticulture specialists to optimise biodiversity for Irish farms, which will in turn benefit our ecosystems and have a positive impact on the rich, diverse pastures available to cows. Tirlán's network of farmers are enthusiastic and willing to enhance and protectIrish land for future generations.
Family farms are acutely aware of the necessity to protect and enhance biodiversity on their farms beginning with the rich productive soils which are so important. This is the cornerstone for a biodiversity rich farm.
What is biodiversity?
Biodiversity describes the various types of life found in an area that makes up an ecosystem. Biodiversity essentially facilitates survival through its delivery of food, clean water, medicine, and shelter. Hedgerow sare important homes where flora and fauna can thrive. Flowering hedgerows can be a lifeline for nature, providing vital food for pollinators in spring, as well as berries in autumn for birds and mammals.
Vibrant hedgerows on farms provide wildlife corridors for many of the insects, birds and mammals that support farming operations. They also provide much needed shelter for grazing animals, naturally deter wind and reduce water erosion. Pockets of trees on farms play their part in removing carbon dioxide from the atmosphere as they grow and help to combat climate change. The network of habitats throughout the countryside provides connectivity for wildlife.
Biodiversity increases water purity as tree and hedgerow roots regulate the movement of water that prevents flooding, reduces nutrient runoff and stops sediment from reaching water sources. Irish farms have huge potential to benefit biodiversity, and where managed appropriately, can help combat climate change and benefit the natural environment for all involved.